SCCD 33143 Yaala Ballin "Sings Irving Berlin"
<![if !vml]>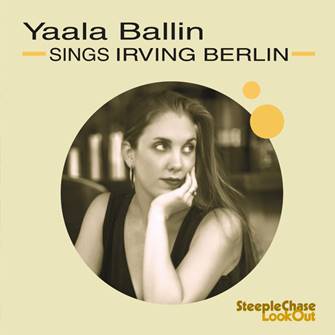 <![endif]> <![if !vml]>

<![endif]>
The album concept "Ballin Sings Berlin" is a logical conclusion of a series of tribute concert Yaala Ballin produced a while ago entitled "His Name Was Israel Baline". The idea started with Yaala's research into possible ancestral connection with Irving Berlin (born Israel Baline). With or without connection she ended up with the superb recital of gems by arguably the greatest American songwriter.
                Israli-born Yaala was classically trained but grew more attracted to jazz later on and studied with Sheila Jordan. Since her move to New York in 2004 Yaala has developed herself into one of the remarkably original singers on the NY scene.
                Yaala was featured on "The Music Of Duke Jordan" (SCCD 31787) with the Chris Byars Septet.
YAALA BALLIN vocal
MICHAEL KANAN piano
CHRIS FLORY guitar
ARI ROLAND bass
Recorded October 2019
1       IT'S A LOVELY DAY 3:17
2       THEY SAY THAT FALLING IN LOVE IS WONDERFUL 3:36
3       BE CAREFUL, IT'S MY HEART 3:15
4       BLUE SKIES 2:40
5       HOW MANY TIMES? 3:55
6       THIS YEAR'S KISSES 4:09
7       REMEMBER 2:50
8       HOW DEEP IS THE OCEAN 3:48
9       SAY IT ISN'T SO 2:42
10     FOOLS FALL IN LOVE 3:19
11     CHANGE PARTNERS 4:13
12     ALL ALONE 3:21
13     CHEEK TO CHEEK 4:44
Total Playing Time 46:34
Listen  here:
https://www.deezer.com/album/197496402
https://open.spotify.com/album/4l80y2EwA1xrbxKPXVnS1K
https://music.apple.com/us/album/sings-irving-berlin/1547230317?l=ja&ls=1&app=itunes
https://music.apple.com/us/album/sings-irving-berlin/1547230317?l=ja&ls=1