SCCD 33144 Peter McEachern gCode 2h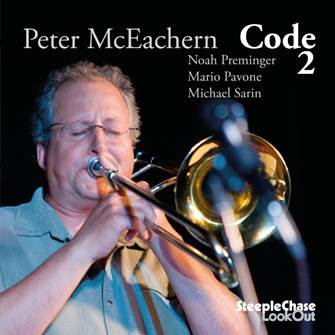 SteepleChase launched its sister label gLookOuth in 2012 to introduce worldfs jazz artists who deserve wider recognition. The label amassed over 40 titles now.
Here is #44 - veteran trombonist Peter McEachern and his quartet.
McEachern bases his activities in Connecticut but tours and teaches all over USA. He released a CD in 2018 entitled gBone Codeh with his trio. This 2021 version is expanded with the addition of the young saxophone star Noah Preminger.
McEachern is not only dextrous with his instrument but also a prolific composer, who penned most of the tunes on this album.
gWhat strikes one as significant, however, is McEachern's trombone technique, which features a variety of styles played with great intimacyc While often subtle but never rambunctious, his understated technique allows the compositions to breath.h (Don Phipps – All About Jazz)
PETER MCEACHERN trombone
NOAH PREMINGER tenor saxophone
MARIO PAVONE bass
MICHAEL SARIN drums
Recorded June 2019
1 MOUNDS (Peter McEachern) 4:31
2 ARTIC (Peter McEachern) 4:59
3 COLBALT (Mario Pavone) 4:32
4 BRONZINI (Peter McEachern) 6:30
5 DEWEY'S TUNE (Dewey Redman) 4:15
6 LAMENT FOR THE FUTURE (Peter McEachern) 6:32
7 BIG SHOE (Peter McEachern) 5:40
8 CONIC (Mario Pavone) 3:10
9 THIS OR THAT (Peter McEachern) 4:04
10 INDIGINOUS (Peter McEachern) 3:58
11 GEODE (Mario Pavone) 5:43
12 NATIVE MODE (Peter McEachern) 7:26
Total Playing Time 62:07
Listen the album from here:
l https://www.deezer.com/album/251448382
l https://open.spotify.com/album/2lNEDywnbKDTwbRnKWi4lW
l https://music.apple.com/us/album/code-2/1581070704?l=ja&ls=1&app=itunes
l https://music.apple.com/us/album/code-2/1581070704?l=ja&ls=1